In this article, we will give you the falafel restaurant in Tel Aviv, falafel restaurant in Jerusalem, and falafel restaurant in Eilat worth visiting, especially if you never had one before!
What is a falafel?
For those who don't know, this is a falafel: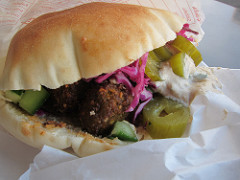 Falafel is a vegetarian dish, which regularly comes in pita bread, or a Laffa bread, which is like a tortilla, but thicker, and the falafel itself is actually balls of chickpea(And some more good things), deep-fried and can be served as a whole meal in pita bread, or as side Deseret while eating other things.
If you go around Israel, you can find places which makes falafel/ falafel restaurant almost everywhere, as falafel is not only easy to make and cheap, it is also considered one of the symbols of Israel and the Israeli food.
This song is basically saying, While others have this and that food, we have the falafel 🙂
Falafel restaurant in Tel Aviv worth visiting
Around Tel Aviv, you got so many falafel stands, You can enjoy your falafel with a great salad, and lots of tehini(טחינה) on the top.
The best falafel place in Tel Aviv, we believe, is "FALAFEL GABAY", The falafel is fresh, yummy, the place is clean and we can enjoy the atmosphere while eating there
Do you have a falafel restaurant you like more in Tel Aviv? write it in the comments and everyone can enjoy your recommendation.
Falafel restaurant in Jerusalem worth visiting
If you are looking for Falafel restaurant in Jerusalem, We will give our recommendation based on two things, one is the falafel restaurant while you travel Machane Yehuda, and the other is while you are traveling anywhere else in Jerusalem
In the Machane Yehuda area, try "FALAFEL HAACHIM LEVI"(פלאפל האחים לוי), Which is a well-known establishment, which is not exactly a restaurant as you can't really sit, but the falafel is good!
The other falafel restaurant is called "falafel shalom", and has many branches around Jerusalem. This is a restaurant where you can sit if you like, and the falafel, among other things there, is awesome!
Falafel restaurant in Eilat worth visiting
If you go all the way to the other side of Israel just for a falafel, all we can say is Be-Te-Avon
(Enjoy your meal in Hebrew :)!
Eilat is amazing, and a must-see place in Israel to have a good time and unwind, enjoying beaches, shopping and a lot of sun.
If you want to enjoy a falafel in Eilat we recommend you check "FALAFEL BOUTIQUE", which offers a falafel people in Eilat go to for ages now.
Stay connected while traveling to Israel using our Israeli sim cards